WELCOME to my web store. Here you will find a selection of affordable printed goods to entertain and amuse. Strictly for the discerning enthusiast.

SHIPPING: All pricing includes the cost of shipping. All orders will ship within 5 to 10 working days. Domestic and International orders ship via USPS. Tracking will be provided via Stamps.com. Confirmation of payment received is automatically generated by PayPal, not Rotland Press, so please check your own PayPal account if you did not receive that confirmation.

RETURNS: Items cannot be returned or exchanged. Please make sure you order the correct item. If items are damaged in transit, please contact USPS. Insurance is provided upon request for an additional charge.

MAILING LIST: If you would like to be added to an email list for updates, please send a message to ryan.standfest@gmail.com.
---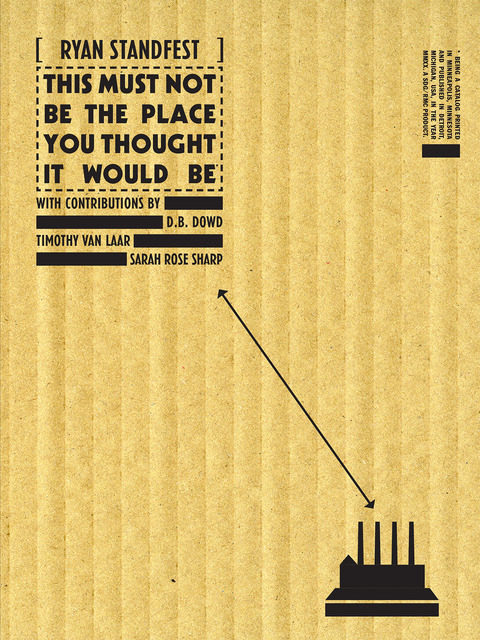 Item No. RS014: THIS MUST NOT BE THE PLACE YOU THOUGHT IT WOULD BE
2020
perfect bound book
56 pages, 6 x 8 inches
-monograph published by Simone DeSousa Gallery
-essays by D.B. Dowd, Timothy van Laar, Sarah Rose Sharp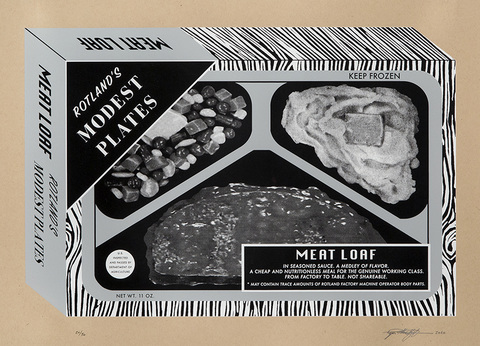 Item No. RS013: MODEST PLATES
2020
four color screen print
18 x 24 inches
-edition of 50 / signed + numbered in graphite
-hand-printed on 100lb Speckletone Kraft from the French Paper Company in Niles, Michigan
-ships rolled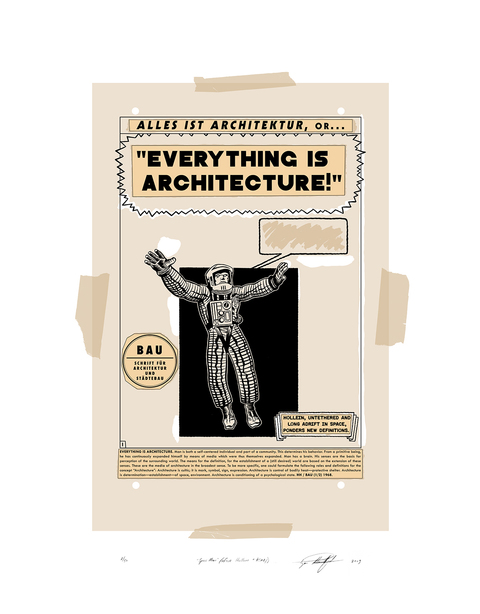 Item No. RS012: SPACE MAN! (after Hollein + Kirby)
2019
five color screen print
24 x 18 inches
-edition of 50 / signed + numbered in graphite
-hand-printed on 100lb Dur-O-Tone Newsprint Extra White from the French Paper Company in Niles, Michigan
-ships rolled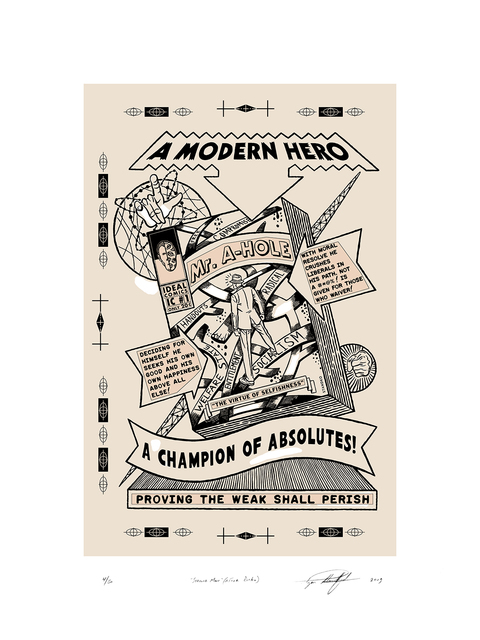 Item No. RS011: STRONG MAN! (after Ditko)
2019
four color screen print
24 x 18 inches
-edition of 50 / signed + numbered in graphite
-hand-printed on 100lb Dur-O-Tone Newsprint Extra White from the French Paper Company in Niles, Michigan
-ships rolled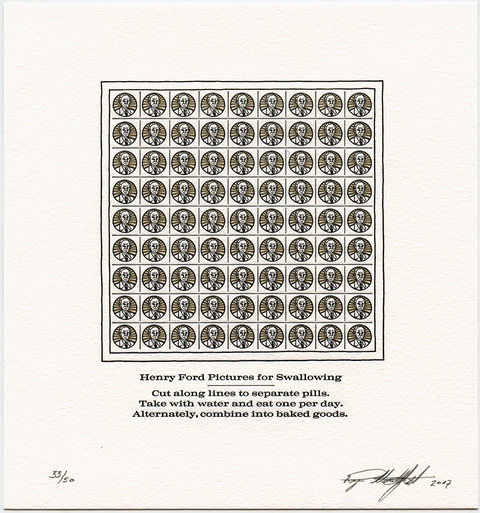 Item No. RS010: Schluckbilder for Henry Ford
2017
2-color letterpress
8 x 8 inches
-edition of 50 / signed + numbered in graphite
-hand-printed on Johannot, mouldmade in France
-Printed by Lee Marchalonis at Signal-Return, Detroit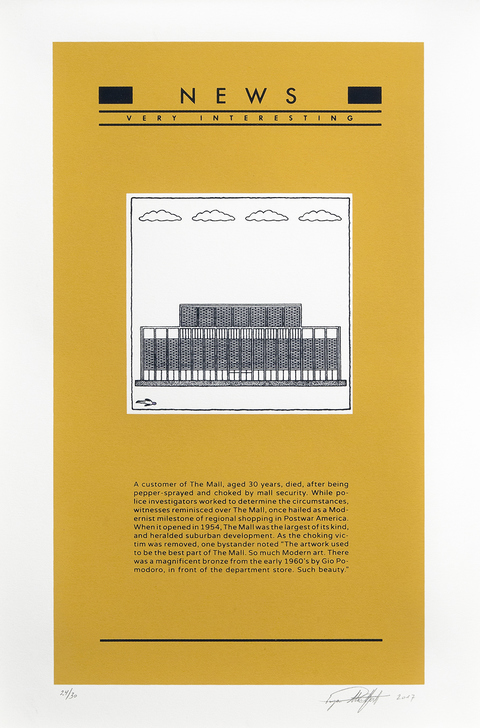 Item No. RS009: MODERN NEWS NO. 2 (Gruen)
2017
two color screen print
19 ¼ x 13 ¼ inches
-edition of 30 / signed and numbered in graphite
-hand-printed at the Frostic School of Art, Western Michigan University with the assistance of
Nichole Maury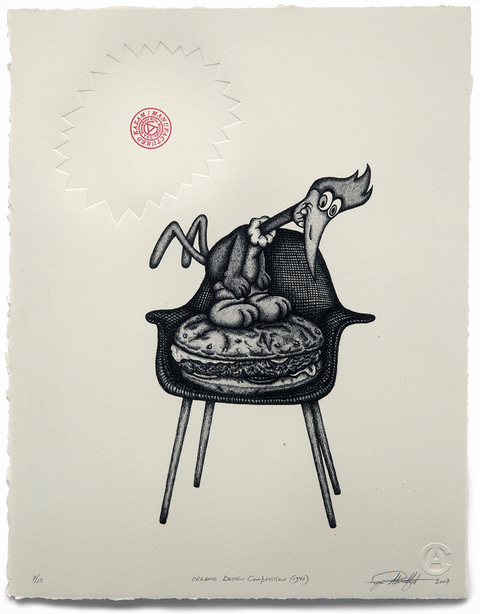 Item No. RS003: Organic Design Competition 1941
2017
stone lithograph with embossment and rubber stamp
14 x 11 inches
-edition of 15 / signed and numbered in graphite with printer's chop
-hand-printed on Steel Grey Stonehenge at the Cranbrook Academy of Art Printmaking Area, with the assistance of Paolo Marino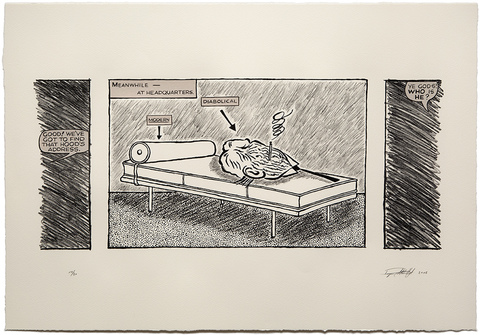 Item No. RS002: POSTMODERN DETECTIVE COMICS
2015
stone lithograph with collaged newsprint
22 x 30 inches
-variable edition of 20 / signed and numbered in graphite
-hand-printed on Arches at the University of Iowa School of Art Printmaking area with the assistance of Ross Mazzupappa and Allison Rosh
-ships flat

Item No. RS004: Formulation No. 3 (Castiglioni)
2016
four color screen print
9 x 24 inches
-edition of 50 / signed and numbered in graphite
-hand-printed on 100lb Dur-O-Tone Newsprint White from the French Paper Company in Niles, Michigan
-ships flat

Item No. RS003: Formulation No. 2 (Saarinen)
2016
four color screen print
9 x 24 inches
-edition of 50 / signed and numbered in graphite
-hand-printed on 100lb Dur-O-Tone Newsprint White from the French Paper Company in Niles, Michigan
-ships flat

Item No. RS002: Formulation No. 1 (Noguchi)
2015
six color screen print
9 x 24 inches
-edition of 50 / signed and numbered in graphite
-hand-printed on 100lb Dur-O-Tone Newsprint White from the French Paper Company in Niles, Michigan
-ships flat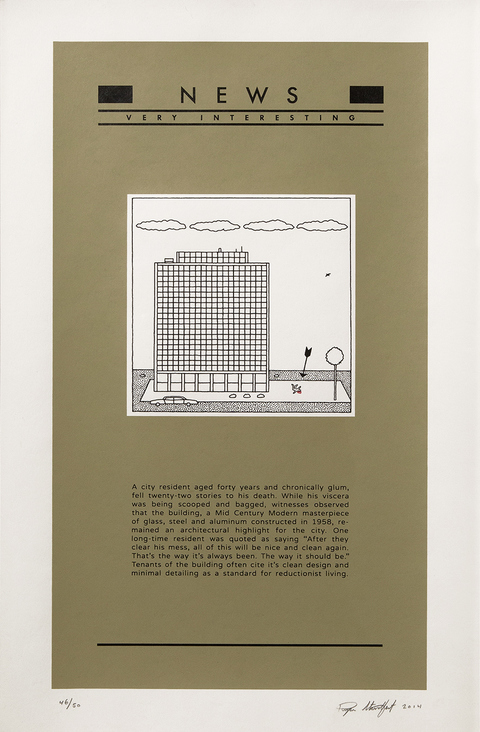 Item No. RS001: MODERN NEWS NO. 1 (Mies)
2014
two color screen print with handcoloring
19 ¼ x 13 ¼ inches
-edition of 50 / signed and numbered in graphite
-hand-printed on Dur-O-Tone Butcher White from the French Paper Company in Niles, Michigan
-ships flat