In 2018-2019, I contributed to the Detroit Art Review, a blog that focuses on exhibitions in Detroit-area galleries and museums.

Here are abstracts of each of the reviews I authored with accompanying links to the full text.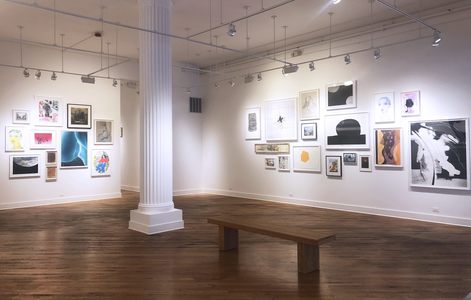 "SALON" Gallery 1 Installation View. Photo: David Klein Gallery.
OCTOBER 13, 2019: "SALON" @DAVID KLEIN GALLERY DETROIT
At the David Klein Gallery, Detroit, the exhibition "SALON" ambitiously presents 90 works by 39 artists across a range of media, with sundry formal intentions in diverse dimensions, all the while accomplishing the near impossible task of curating a ruminative viewing experience in which a spirited dialogue between each work translates into an expansive conversation with its audience. "SALON" summons and breathes new life into old models of art viewership and cultural discourse that once placed an emphasis on wide-eyed pluralistic wonder.
(Read More)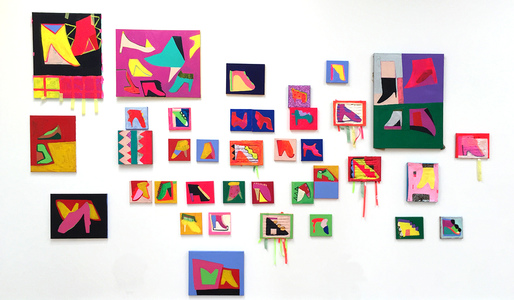 Gyan Shrosbree, "I Will Never Share A Closet With You", 2019, acrylic, ribbons, glitter, push pins on canvas, various dimensions. Installation photo by R. Standfest
OCTOBER 4, 2019: GYAN SHROSBREE and JIM SHROSBREE @ Nx.ix GALLERY
For the inaugural exhibition of the new Hamtramck gallery Nx.ix, gallerist Nicole McIntyre has curated a formally exuberant conversation between the work of Gyan Shrosbree and that of her father Jim Shrosbree. "Sense of Place" presents over 37 paintings in a large, bright, unobstructed space that is extended further as corners, baseboards, hallways, and those places generally left unconsidered in white cube installations, are teased out for a fuller sense of the place itself. Nestled above cabinets, hugging corners and leaning on the floor, groupings of the works into pockets great and small are an echo of what is unfolding within the pieces themselves.
(Read More)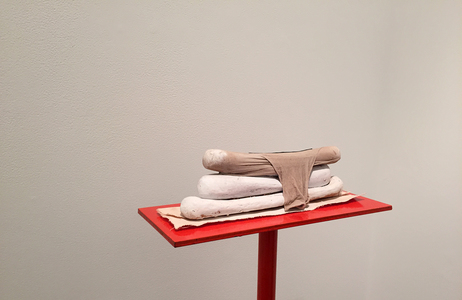 Jim Shrosbree, "Tandroop" (2019), ceramic, nylon, cloth, gesso, enamel, steel, 46 x 15 x 7 inches. Installation photo by R. Standfest.
SEPTEMBER 27, 2019: JIM SHROSBREE @PAUL KOTULA PROJECTS
The title of this new exhibition of work by artist Jim Shrosbree, "
thinking
/still," is evocative of Irish playwright, poet and novelist Samuel Beckett who in his novel
Molloy
(1951), wrote "To restore silence is the role of objects." Indeed, the objects of Jim Shrosbree are imbued with the capacity to distill and render the space they occupy with a thoughtful silence. "
thinking
/still" also suggests two different states of being, one seemingly active and one inactive, that are both the same. The oblique slanting punctuation mark separating the italicized action of "thinking" and the upright "still," serves to both divide and join these two states. To be thinking
is
to be still. Stillness and thought are complimentary to one another, allowing for a new space to emerge.
(Read More)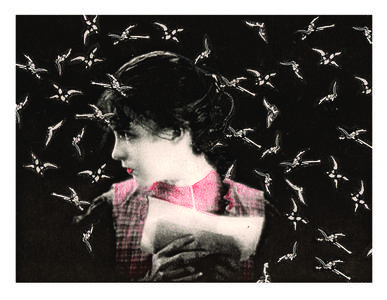 Stacey Steers, single collage (2011), 22 x 18 x 1 inches
JUNE 14, 2019: STACEY STEERS @ K. OSS CONTEMPORARY ART GALLERY
The actress Lillian Gish (1893-1993) was called the "First Lady of American Cinema," as the earliest prominent female film star from 1912 to the 1920s. In screen performances that defined the role of women in silent cinema, Gish was the image of the archetypal suffering heroine that gained strength through trauma. It was the stuff of pure melodrama.
Artist and filmmaker Stacey Steers resurrects Gish in the animated short film
Night Hunter
(2011), which was created from 4,000 collages on paper and shot on 35mm film. It can currently be viewed as the centerpiece of the exhibition "Night Hunter" at the K.OSS Contemporary Art Gallery, alongside a selection of the collages used in its making and a reconfiguration of excerpted scenes within two sculptural installations. Steers work in "Night Hunter" evokes the literature of dark fairy tales, gothic horror and doomed Victorian romance as shot through with the intuitive approach to narrative construction found in Surrealist art and cinema. Rich in seemingly-incongruous symbolism, the film and its component parts untether and collect the raw material of the subconscious within a psychologically complex space that turns the psyche inside out. Although Steers evokes the imagery of the past, she also works to actively deconstruct and subvert the meaning of that imagery.
( Read More )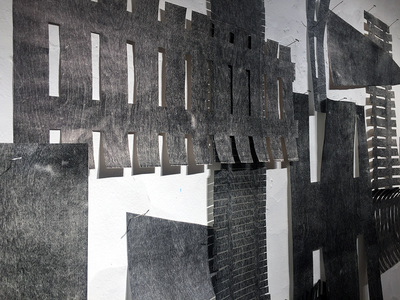 Matthew McLaughlin, Detail of untitled wall installation (2019), monoprint on cut paper, various dimensions. Installation photo by R. Standfest.
APRIL 19, 2019: COMPO/SITE @ THE SCARAB CLUB
The current politically-charged discourse surrounding the construction of a wall at a secured southern border, is as much as anything a conceptual conversation giving material form to immaterial psychological barriers. The "Trump wall," conceived as a talking point in the 2016 presidential campaign, is representative of something far more than the control of illegal immigration traffic. Its physical manifestation in the public imagination is a singular structure that forcefully cuts through the landscape, creating a geographic forcefield through which no body nor any view may pass. It is a potent symbol that negates the very notion of free passage. Underlying the idea of it, is a sense of paranoia and xenophobia; the need to separate oneself from "the other." It is also about turning inward, and embracing the notion that one's sense of place is not a shared space, but an individually-owned and protected one. An isolationist perspective in which landscape itself must be divided, detached and organized into manageable zones to ease psychogenic stresses.
"Compo/Site" at The Scarab Club, is an exhibition of forty works by six artists, all employing print media to investigate environmental psychology and the parameters of space and place. With a few exceptions, there is the noticeable absence of representations of the human body in most of the work on view, and yet there is a cultivated awareness throughout of human motivation behind structures that reshape physical landscapes into cognitive ones. Each of these artists question how we construct place and manufacture a phantom ownership over space—a personal space and a public space, a space for desire and a space for loss.
(Read More)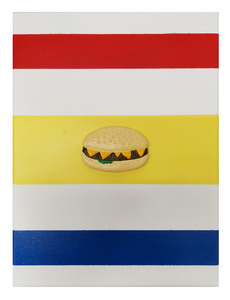 Dustin Cook, "Eat Like Andy" (2019), acrylic and cast plastic on canvas, 12 x 9 inches
APRIL 6, 2019: DUSTIN COOK @ PLAYGROUND DETROIT
In a recent New York Times review of the exhibition "Lucio Fontana: On the Threshold" held at the Met Breuer in the Winter of 2019, critic Holland Cotter wrote of the Argentine-Italian Modernist "As for Fontana, he understood that his own most important contribution remained the "Holes" and "Cuts," which both brutalized tradition and preserved it. He made abstraction look dangerous."
At Playground Detroit, artist Dustin Cook, with a nod to Lucio Fontana, makes abstraction look funny.
In the one-person exhibition "TUMBLE," Cook presents thirty new works on canvas that poke fun at tradition while also paying homage to it. This is a witty exhibition served up in a state of serious play.
( Read More )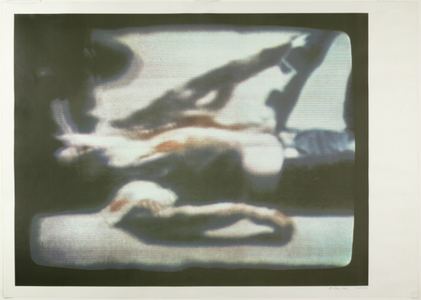 Richard Hamilton, "Kent State, 1970" (1970), screen print on wove paper, 53 x 67 1/2 inches, courtesy of the Detroit Institute of Arts
MARCH 9, 2019: FROM CAMELOT TO KENT STATE: POP ART, 1960-1975 @ THE DETROIT INSTITUTE OF ARTS
Pop Art emerged in the mid to late 1950s and at its most potent was a high art version of what was being done in the low art pages of
MAD
magazine, being sold on newsstands at the same time. Its works were a challenge to and a satirical critique of cultural hierarchies, using the popular visual vocabulary of advertising, cinema, comic books and the superabundance of mass-produced banality. It was a reflexive attitude employing bland surfaces to disrupt culture with ironic precision. It was a movement that embraced emergent means of mechanical reproduction to comment on the Capitalist dream machine powered by the post-World War II assembly line. But as the exhibition "From Camelot to Kent State: Pop Art, 1960-1975" at the Detroit Institute of Arts explores, a larger political project emerged from those artists associated with Pop Art to dismantle the machinery of Modernity as war and social injustice chipped away at the later half of the 20th century.
Works by a remarkable roster of artists including Jim Dine, Audrey Flack, Robert Indiana, Jasper Johns, Roy Lichtenstein, Marisol, Larry Rivers, Robert Rauschenberg, James Rosenquist, Ed Ruscha, May Stevens and Wayne Thiebaud fill out the exhibition, but there are a core group of works by Corita Kent, Claes Oldenburg, Eduardo Paolozzi, Richard Hamilton and Andy Warhol that serve as conceptual highlights to the Postmodern thrust of the Pop Art agenda.
( Read More )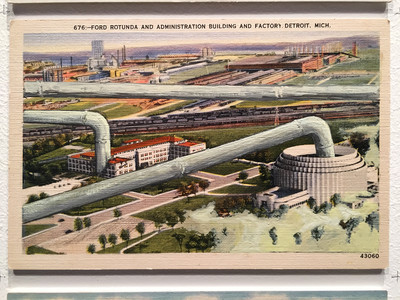 David Opdyke, "This Land" (2019), Detail of vintage postcard modified with gouache and ink
FEBRUARY 9, 2019: DAVID OPDYKE @ THE UNIVERSITY OF MICHIGAN INSTITUTE FOR THE HUMANITIES
For Queens-based artist David Opdyke, the manipulation of scale as a means to transform great existential threats posed by the ceaseless appetites of late capitalism conjoined with the convulsions of American politics, into something more relatable–models that collapse overwhelming chaos into tragicomic vignettes–is an essential tool to remind his audience of its place in a complex narrative of global survival. In sculpture, installation, animation and drawing, Opdyke relies upon our innate sense of childlike wonder at a miniaturized world as it transforms the relationship we have with our own full scale world, teetering on the edge of collapse and brimming with grown-up trauma. With a vision that is both epic and intimate, balancing the sublime with the grotesque, he threads the marvelousness of the microcosmic with macrocosmic socio-political concerns. Having previously worked as a scenic painter and architectural model-maker for 20 years, tweaking perception to clarify the structure of the world seems a natural fit.
( Read More )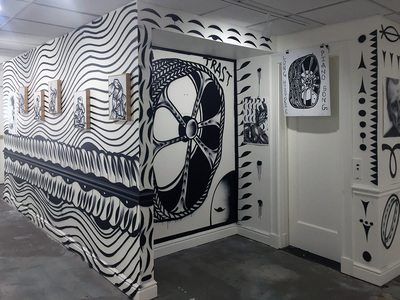 W.C. Bevan, "Contrast" partial installation view. Installation photo by R. Standfest.
DECEMBER 16, 2018: W.C. BEVAN @ GREENROOM GALLERY
Entering into the space of the new Greenroom Gallery for its second exhibition, "Contrast", a collection of 24 black and white painted, printed and drawn works by W.C. Bevan, muralist, graffiti artist, printmaker and painter, one comes upon a seamless environment in which wall surface and the individual works presented on it, augment one another to resemble a brightly-lit cave covered with symbols and representations both prehistoric and futurist, of our time and outside of our time, vague and precise. There is a timeless music issuing forth from this chamber.
( Read More )