In 2018, I began writing for the Detroit Art Review, a blog that focuses on exhibitions in Detroit-area galleries and museums.

Here are abstracts of each review I have authored with accompanying links to the full text.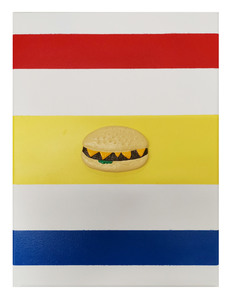 Dustin Cook, "Eat Like Andy" (2019), acrylic and cast plastic on canvas, 12 x 9 inches
APRIL 6, 2019: DUSTIN COOK @ PLAYGROUND DETROIT
In a recent New York Times review of the exhibition "Lucio Fontana: On the Threshold" held at the Met Breuer in the Winter of 2019, critic Holland Cotter wrote of the Argentine-Italian Modernist "As for Fontana, he understood that his own most important contribution remained the "Holes" and "Cuts," which both brutalized tradition and preserved it. He made abstraction look dangerous."
At Playground Detroit, artist Dustin Cook, with a nod to Lucio Fontana, makes abstraction look funny.
In the one-person exhibition "TUMBLE," Cook presents thirty new works on canvas that poke fun at tradition while also paying homage to it. This is a witty exhibition served up in a state of serious play.
( Read More )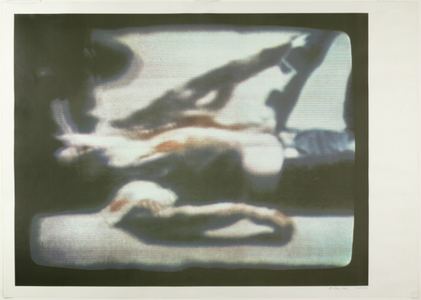 Richard Hamilton, "Kent State, 1970" (1970), screen print on wove paper, 53 x 67 1/2 inches, courtesy of the Detroit Institute of Arts
MARCH 9, 2019: FROM CAMELOT TO KENT STATE: POP ART, 1960-1975 @ THE DETROIT INSTITUTE OF ARTS
Pop Art emerged in the mid to late 1950s and at its most potent was a high art version of what was being done in the low art pages of
MAD
magazine, being sold on newsstands at the same time. Its works were a challenge to and a satirical critique of cultural hierarchies, using the popular visual vocabulary of advertising, cinema, comic books and the superabundance of mass-produced banality. It was a reflexive attitude employing bland surfaces to disrupt culture with ironic precision. It was a movement that embraced emergent means of mechanical reproduction to comment on the Capitalist dream machine powered by the post-World War II assembly line. But as the exhibition "From Camelot to Kent State: Pop Art, 1960-1975" at the Detroit Institute of Arts explores, a larger political project emerged from those artists associated with Pop Art to dismantle the machinery of Modernity as war and social injustice chipped away at the later half of the 20th century.
Works by a remarkable roster of artists including Jim Dine, Audrey Flack, Robert Indiana, Jasper Johns, Roy Lichtenstein, Marisol, Larry Rivers, Robert Rauschenberg, James Rosenquist, Ed Ruscha, May Stevens and Wayne Thiebaud fill out the exhibition, but there are a core group of works by Corita Kent, Claes Oldenburg, Eduardo Paolozzi, Richard Hamilton and Andy Warhol that serve as conceptual highlights to the Postmodern thrust of the Pop Art agenda.
( Read More )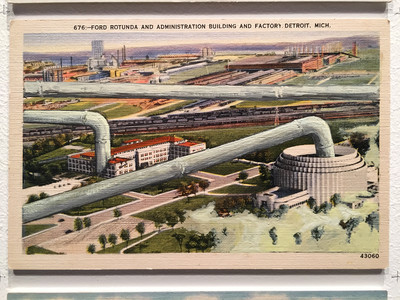 David Opdyke, "This Land" (2019), Detail of vintage postcard modified with gouache and ink
FEBRUARY 9, 2019: DAVID OPDYKE @ THE UNIVERSITY OF MICHIGAN INSTITUTE FOR THE HUMANITIES
For Queens-based artist David Opdyke, the manipulation of scale as a means to transform great existential threats posed by the ceaseless appetites of late capitalism conjoined with the convulsions of American politics, into something more relatable–models that collapse overwhelming chaos into tragicomic vignettes–is an essential tool to remind his audience of its place in a complex narrative of global survival. In sculpture, installation, animation and drawing, Opdyke relies upon our innate sense of childlike wonder at a miniaturized world as it transforms the relationship we have with our own full scale world, teetering on the edge of collapse and brimming with grown-up trauma. With a vision that is both epic and intimate, balancing the sublime with the grotesque, he threads the marvelousness of the microcosmic with macrocosmic socio-political concerns. Having previously worked as a scenic painter and architectural model-maker for 20 years, tweaking perception to clarify the structure of the world seems a natural fit.
( Read More )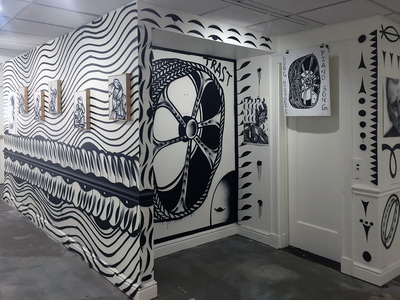 W.C. Bevan, "Contrast" partial installation view
DECEMBER 16, 2018: W.C. BEVAN @ GREENROOM GALLERY
Entering into the space of the new Greenroom Gallery for its second exhibition, "Contrast", a collection of 24 black and white painted, printed and drawn works by W.C. Bevan, muralist, graffiti artist, printmaker and painter, one comes upon a seamless environment in which wall surface and the individual works presented on it, augment one another to resemble a brightly-lit cave covered with symbols and representations both prehistoric and futurist, of our time and outside of our time, vague and precise. There is a timeless music issuing forth from this chamber.
( Read More )